[ad_1]



How was eBay's earnings in 2020? Why You should be on eBay!
Running short of time? Get PDF of the blog in your mail.

Play Now
Is eBay that good?
Should I open my store with eBay?
Will my entrepreneurial project succeed if I opt to sell on eBay?
If these are the questions that you've been asking yourself lately, then you're on the right page. The performance of a marketplace is one of the key metrics to determine the sellers' overall experience throughout the year on that marketplace.
Encasing eBay's annual earnings report, this article covers the global eCommerce leader's journey, eBay, through its highs and lows of each quarter in 2020. In the process, you will learn what to expect in the upcoming year 2021 and whether or not eBay has what it takes for a marketplace to be your first choice of selling option. So here is a brief yet detailed eBay Annual earnings and growth report for you.
What is eBay?
With a vision to empower and help in the growth of sellers, eBay excel in providing economic growth for small, medium, and large businesses alike. eBay, since 1995 has been connecting millions of buyers and sellers globally, helping them sell and grow globally. Having operations in 190+ countries worldwide, eBay's business portfolio includes the eBay Marketplace and the eBay Classifieds groups.
eBay has been embracing innovations and providing its customers with the best in class user experience for the past 25 years; eBay is a global commerce leader. eBay has got itself a whopping 185 million user base for its marketplace as the annual earnings report for 2020. The vast numbers are justified as eBay is home to 1.6 billion product listings. Also, 1500+ cities have eBay classifieds listings available.

There are countless merchants on eBay working their way up the ladder to turn their business into a success. To give its customers the best experience, eBay has always been keen on developing Artificial Intelligence and using it. Computer Vision, Translator, and natural language processing make it simple for you as a seller and help the buyer make their shopping process more comfortable.
How was growth in 2020 for eBay?
In the first quarter of the year 2020, no one knew a pandemic was lurking around and would change the eCommerce biz world in a way that was never thought of. It changed how the world operated, forcing new and unique trends. eBay was swift enough to comply, making sure everyone who depended on it didn't have to suffer.
The First Half of 2020
First Quarter of 2020
Generating $2.4 Billion (GMV: $21.3 Billion) in the First Quarter of 2020, eBay witnessed around 310 million promoted listings contributing to $137 Million of the total revenue.
The Promoted listings got rightly complimented by 1.5 million sellers generated offers each day. The onset of global lockdown gave the online stores and the global eCommerce marketplaces a chance to step up to save the day. In the process, the global eCommerce experienced a hike in key metrics like traffic, conversions, and sold items.
2020 also saw numerous small businesses joining hands with the eBay marketplace to expand their business.
eBay also removed or blocked over 15 million listings that make false health claims or offer products at inflated prices.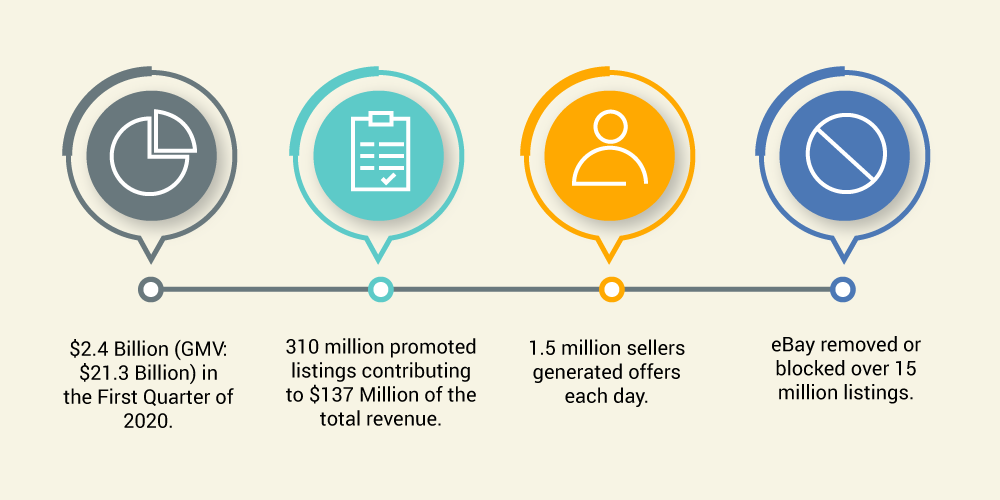 Second Quarter of 2020
The second Quarter saw a mind-boggling $2.9 Billion (GMV: $27.1 Billion) in revenues, of which the marketplace alone chipped in $2.7 Billion. The promoted listing contributed $196 million to it (up by 120% Y/Y).
eBay witnessed growth in active buyers by 5%. The expansion meant an additional 8 million buyers started shopping on eBay taking the user count to 182 million active buyers.
The most sought-after categories that eBay witnessed were Home and Garden, Fashion, Electronics, and Auto Parts and Collectibles.
The eBay app also introduced the Storefronts in the mobile app, boosting seller presence. The app also got equipped with a Dark Mode feature for a comfortable viewing experience for iOS and Android, becoming the first marketplace.
eBay's managed payment also saw a significant milestone in July, having reached the end of its agreement with PayPal. Since the launch, eBay's Managed payments have served nearly 42,000 sellers processing $4.7 Billion in GMV.
eBay's Up & Running program also saw great responses and growth in 25 markets in the Second Quarter of 2020. The program aims to support small businesses and help them grow.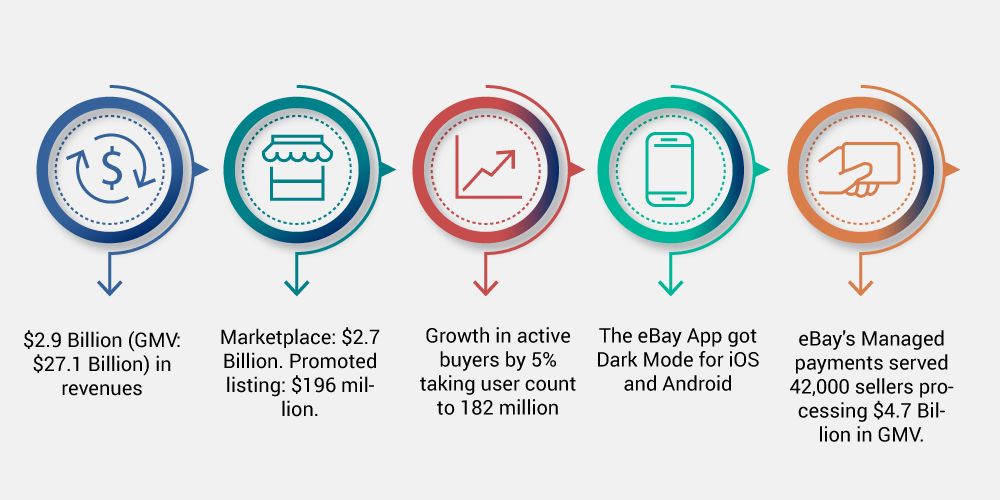 The Second Half of 2020
Third Quarter of 2020
The second half of the year started with an astounding $2.6 Billion in revenues in Quarter 3, witnessing a 5% Y/Y growth in active buyers, taking the count to 183 million and reporting $25 Billion GMV.
The Promoted listing contributed $186 million to the revenue.
eBay's Managed payment got 340,000 sellers to itself in the Third Quarter. Also, eBay has set goals to expand the payment services to France, Italy, and Spain in January 2021.
The Quarter also saw eBay working towards building a trusted environment for the buyers by launching authentication on watches sold for over $2000 under "Authenticity Guarantee" services. The service will soon be available for the most sought-after category on eBay, too: Sneakers, in 2021.
The second half also saw an Introduction of certified refurbished that made the world's most popular brands available to the customers. It comes with a 30 days return policy and a 2-year warranty.
To aid the buyers and sellers alike, eBay launched Virtual Tracking Number in the U.K and Australia. It helped to boost the confidence of both the parties involved by making the tracking process hassle-free.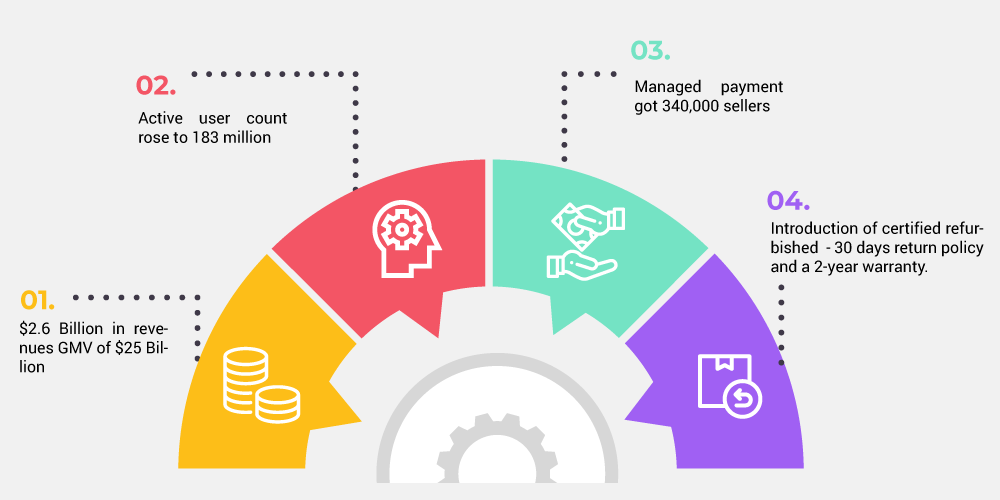 Fourth Quarter of 2020
The 4th Quarter for eBay saw a $2.9 billion revenue and a GMV of $26.6 billion. Meanwhile, the user base saw an incremental growth of 2 million taking the numbers to 185 million active global users.
eBay also witnessed over 38% of the global payments on its channel getting processed through managed payments. Around 50% of the payments migration completed in the U.S. eBay exited the Quarter, with over 1 million sellers migrated globally.
Promoted Listings delivered over $215 million of revenue in Q4, up 60% on an as-reported basis and up 57% on an FX-Neutral basis.
eBay's total advertising revenue reached a new milestone in 2020, passing $1 billion in revenue for the year.
In Q4, the NHS PPE Portal, powered by eBay, delivered more than one billion PPE items to more than 45,000 social care workers in the U.K.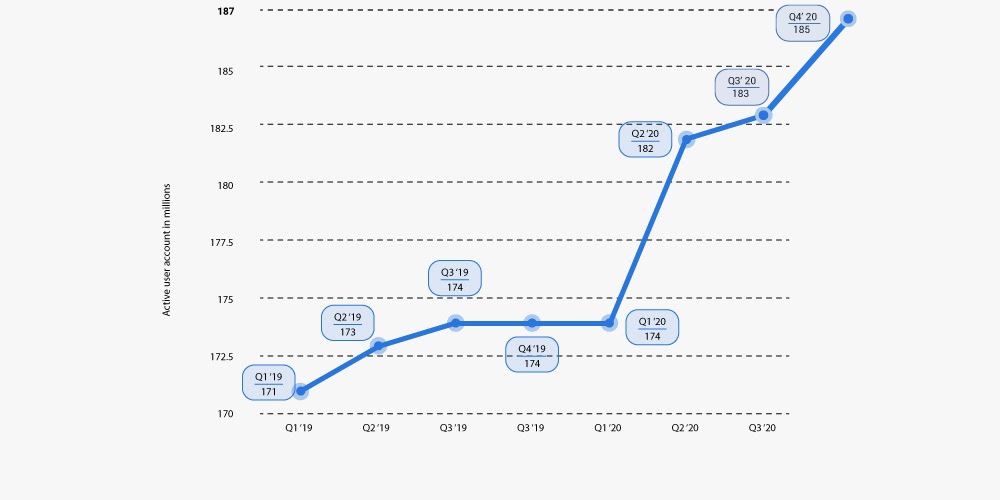 2020 highlights
Revenue was $10.3 billion, up 19%
GMV was $100.0 billion, up 17%
Users downloaded the eBay app more than 50 million times in 2020.
2020 was a record-breaking year for eBay for Charity as it raised nearly $123 million in global charitable donations.
The company partnered with the Federation of Small Businesses and Adecco Working Ventures to boost youth employment opportunities for up to 1,000 people in the U.K.
The global user base in 2020 rose from 171 million in Q1 to 185 million in Q4 for eBay.
Upon its debut on Netflix, "The Queen's Gambit," one chess fiction series. This resulted in a 250% hike in the search for Chess Sets on eBay.
The strongest frontiers of eBay globally
The UK continues to perform strongly out of all eBay's country sites around the world
1 in 10 online shoppers in the US bought something on eBay.
In Germany, that number was 1 in 7 online shoppers bought something on eBay.
1 in 4 online shoppers in the UK bought something on eBay.
What does the eBay in 2020 report mean for sellers?
The eBay 2020 annual earnings reports make it simple to conclude that there has been immense growth in the eCommerce marketplace. eBay emerged as one of the winners in the battle against the Covid-19 in the first and second quarters of the year. eBay never lost the momentum gained during the pandemic, and eBay got across the line with a splendid performance throughout the year.
What does this mean for sellers like you? Well, one thing's for sure. If you're thinking about starting your store on eBay, 2021 is the year for it. With everything that eBay has achieved in the past year. And then, including the latest and upcoming technological advancements and policies they're introducing with each passing day, eBay is the marketplace you want to be a part of.
How to start selling on eBay?
Suppose you already have a store on a SaaS-based or open-source framework. In that case, you might have already considered expanding your brand to garner the much-needed exposure and sales. eBay happens to be just the perfect option considering all the viable options entering 2021.
To start selling on eBay,
You need to create an account, either a personal account or a business account, by entering fundamental details.
List your products using either the smart listing option or by manually entering the details in their entirety.
Start selling.
However, managing sales on both the channels, i.e., eBay and your store, can be both mentally and physically taxing. In such cases, you can take the most comfortable way out by start using an integration app (for Shopify stores).
The integration between eBay and your store (whether it be on frameworks like Shopify, WooCommerce, BigCommerce, Magento, and more). The automated selling process reduces your workload as you can monitor everything through the application. It's a great add-on. With the app, you can change the information of item(s) related to inventory, category, title, and pricing in an effortless way. Also, as CedCommerce believes in a satisfied customer's concept, it has been developed to provide you with the best experience. The user flow and navigation have been designed to give an app interface that's easy to understand.
Key Takeaways
eBay in 2020 showed everyone that the company is here to compete, grow and keep on providing its customers with the best services and opportunities no matter what may be the economic situation. Adding to the list of reasons why you should start selling on eBay.
Also given the stats and insights we got our hands on suggests that eBay is one of the best locations to be at if your prime motive is to expand and take your business up a notch. With an increase in the global user base in 2020 from 171 million in Q1 to 185 million in Q4, it is evident that users are just flocking in large numbers seeking their products and services.
So pack your bags, and get ready for ebay should be your next destination. Have more queries? Feel free to drop them in the comments or Contact Us on Whatsapp, Skype, and Email.
[ad_2]