[ad_1]



Your Success Guide to US Holiday Season 2020 [Trends, Preparations & Tips]
Running short of time? Get PDF of the blog in your mail.

Play Now
Passing through some difficult months, lately, there has been a terrific surge in people moving to online shopping; and a sleek decline towards physical buying and selling activities. This unprecedented shift is likely to cause an impact on what everyone is eagerly waiting for "the holiday season in the US". There are less than 10 days left for the biggest carnivals taking place around the world, where this time people might be witnessing it more from the comfort of their couch.
While they do so; there is a massive opportunity that awaits you in terms of expanding your business reach and preparing your stores way ahead of this festive season. As you navigate through this weblog; feel free to jump to the section that might satisfy your purpose or walk through together to get better insights.
What All Are You Covering Here?
This US Holiday Season guide is going to cover an array of topics both broad and quick to help you ve ahead of this festive season 2020. Here are all it entails.
The Biggest Days of the US Holiday Season in a Nutshell
Well, for any typical year, the holiday season in the US usually kicks starts with the "Back to School " sale in early September followed by "Labor Day " and then moving on to Halloween Day in October and so on. Since 2020 got us a new unwelcomed guest, the COVID-19 effect has obstructed the way people use to interact and get back to schools and work.
Nevertheless, the spirit of the festive season 2020 is still high with the up and coming exciting feasts where people ponder over turkeys, cakes, candles, costumes, and celebrations. And, most of all, these celebrations come with the exchange of gifts, vintage collections, personalized creations, and so much more.
Each festival upholds a unique idea and story, and almost all the USA population starts preparing for it; be it the small and medium businesses, famous brands, or brick-and-mortar stores. Take a stroll through the significant shopping days in the USA that acquire most of the shopping records.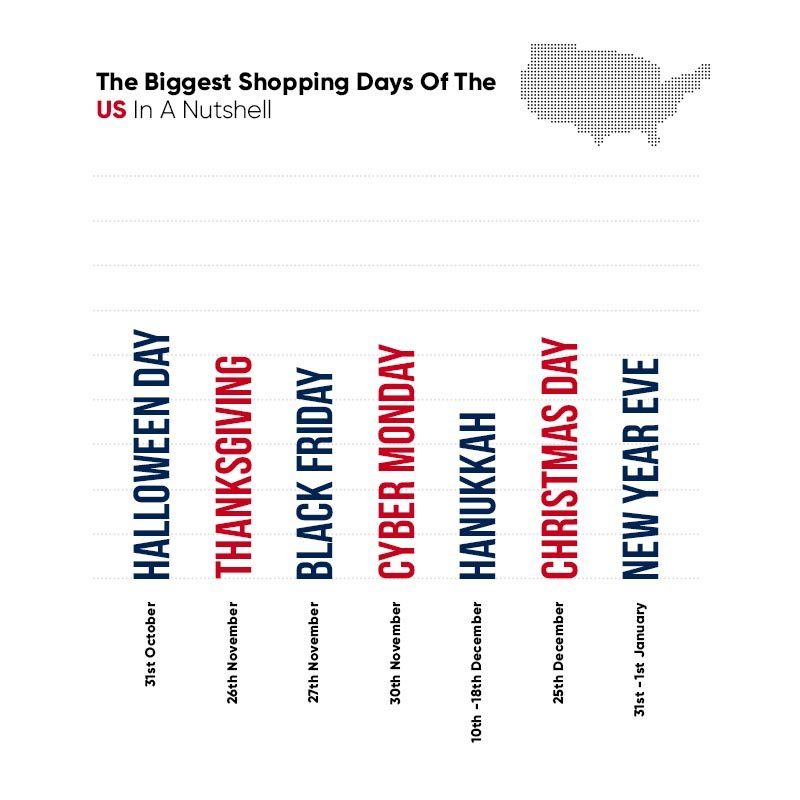 Halloween Day
The first on the list is Halloween day falling on October 31st; one of the most awaited festivals of the United States. Halloween is celebrated in the remembrance of the departed soul like the saints and martyr. Halloween usually marks the end of the harvest and the beginning of winters in some cultures. People generally celebrate it with its very own symbol "jack-o-lantern" and get themselves the spooky costumes and masks.
The retail spending on Halloween was $8.8 billion in 2019, while the average expenditure per person was $86.27. Halloween is considered one of the most affordable shopping festivals as it is still ahead of the grand BFCM carnival; shoppers tend to spend more. The extraordinary part of Halloween is the costumes; shoppers spend as much as $3.5 billion on costumes followed by candy bars and home decors.
Thanksgiving Day
In 2020, Thanksgiving Day is already in the gossip, following the news of Walmart closing its stores. This new update is going to open a huge window for online retailers backing the largest chunk of shoppers into their baskets. Thanksgiving is primarily the flames of approaching BFCM which falls on the fourth Thursday of November, i.e., 26th November. It is observed as a day for giving thanks and sacrifices for the harvest of the year.
Thanksgiving is one of the prominent festivals of the US and several other parts of the world. As per the holiday season shopping is concerned, Thanksgiving is the third most popular online shopping holiday accounting for a huge $4 billion mark in 2019, with sales up 14.5% on last year's. While buyers mostly shop for toys, games, and electronics like laptops and mobile phones; small retailers and big brands remain ever ready to lure shoppers with exciting offers, discounts, and coupons.
Black Friday
Black Friday is the mammoth of the holiday season that falls on the immediate Friday, i.e., 27th November following Thanksgiving Day. The Black Friday event was originally a shopping holiday in the US; however, it has become an international event in Canada, Australia, the UK, and most of Europe. The flames that start from Thanksgiving ignite the festive spirit with online sales hitting a record of $7.4 billion in 2019.
There has been a major shift where consumers shopped a lot on their smartphones, accounting for 39% of the Black Friday online sales, a 21% increase over last year. Following the previous year's trends, home appliances, jewelry, and electronics such as tablets and high-definition televisions usually remain in high demand. Small retailers have been rising with a 140% boost in sales from Thanksgiving to Black Friday; opening up a great opportunity for businesses of all sizes.
Cyber Monday
Cyber Monday also is known as the Blue Monday, i.e., on 30th November was created as an online counterpoint to the brick-and-mortar-heavy Black Friday event. While the prime motive was to encourage people to shop online, Cyber Monday quickly became one of the biggest shopping carnivals in the world. Not only in the USA, but it has now been extended to Canada, Australia, the UK, and most of Europe.
The lines between Black Friday and Cyber Monday have become thinner over time, making it prevalent by the name "BFCM" for most of the participating marketplaces, brands, and retailers. In 2019, US shoppers racked up a total of $9.4 billion in online sales; spending $12 million/minute. Moreover, Amazon, Walmart, Etsy, and Bestbuy lead the biggest eCommerce holiday sales; while SMBs also put up lucrative offers, stores, and product ranges to capitalize on the enormous crowd.
Hanukkah
Hanukkah, also known as the festival of light, is observed between the 10th-18th of December. It is the Jewish festival celebrated at the stretch of eight full days for the successful commemoration of the Second Temple in Jerusalem. Despite being a minor religious festival, it has bloomed to get global recognition.
Hanukkah is famous as a gift-giving holiday where particularly the chocolate, wine, pies, latke, and hamantash are often used to create gift baskets. Children usually receive Hanukkah money, while some families also exchange small presents. Hanukkah is a "pre-setup" for the approaching Christmas and starting early with it can help you get continued sales throughout December.
Christmas Day
Christmas that falls on the 25th of December marks the most prominent religious holiday for Christians worldwide. As it already holds a paramount religious significance, for most people now it has also become a time for giving gifts and spending time with family.
Every year it seems to get bigger, with Americans spending an average of $942 on Christmas gift in 2019. Another study shows that the average American spends 15 hours shopping for Christmas. This hyped-up data is proof of how big the Christmas event is going to be in between the online shift that has become the new normal. Santa Crown, Hats, Gifts, Cakes, and Chocolate all with a themed store can be your chance to get jingle bells.
New Year Eve
You'd think it's over. But it is not. By New Year Eve i.e., 31st December, people are often tired of all those giftings and last-minute deals. However, research shows that the traffic of eCommerce sites remains up with roughly 15%.
Speaking of this, New Year Eve is also an excellent opportunity for the restaurant business and online food delivery chains to maximize huge orders placed by families in leisure times. Several marketplaces and shops also put up clearance sales for preparing their store for the new year. These ideas are great to keep the momentum going – so consider offering an end of year discount, flash sale, or limited free shipping deal.
The New Normal "US Holiday Season 2020" Projections: Trends
Considering the enormous success and records from the past few years, there was a soaring hope for the year 2020; both in terms of revenue and records. However, the sudden outbreak of COVID-19 changed not just the daily routines but also the buying behavior at large.
With so many safety precautions to not stay in close contact and avoid public meet-ups, the physical buying and selling activity lessened torching the rays of opportunity for online selling.
Let's uncover some of the groundbreaking trends, witnessed during the festive season:
In the year 2019, shoppers broke down all records and spent a whopping:
$4.2 billion on Thanksgiving day, up 14.5% from 2018
$7.4 billion on Black Friday with Average Order Value up 6% from 2018
$9.4 billion on Cyber Monday accounted for 30% of the day's revenue.
Cyber Monday became the largest shopping day ever in the history of the U.S. Sales with $9.4 billion sales recorded after 10 pm.
Shoppers made purchases of $197 per order during the 2019 Holiday season on their mobile devices, witnessing a 17% increase from 2018.
73% of e-commerce shoppers accounted for new customers to the retailer. Out of these new customers, 37% went on to make a 2nd purchase.
December 17 and 18, recorded an increase in average ad impressions per user to over 60,000 – while Black Friday numbers hovered around 57,000.
What do the latest Surveys say?
While the "Coronavirus", is still extending its flap, some surveys have laid down optimistic trends and projections for festive season 2020:
According to daVinci Payments, 71% of US adults are planning to do more than half of their holiday shopping digitally this year.
37% of US adults said they are more interested in mobile app shopping than last year (Salesforce)
In the same survey, it is projected that US click-and-collect eCommerce sales would grow by 60.4%, with sales reaching $58.52 billion
The overall gift parcels capacity will also exceed by 5% across the globe between the week before Cyber Week and Boxing Day
66% of Gen Z consumers purchased on social platforms recommend while accessing it through the desktop.
A survey by Criteo across 12 countries in May 2020 shows:
Top-US-Marketplaces
88% of the people plan to purchase gifts online and send them to recipients.
As soon as Black Friday 2020 rolls around, most US consumers will start shopping in stores.
51% of the shoppers have downloaded at least one shopping app during the coronavirus outbreak.
The most downloaded apps in the prior six months were retail shopping apps (60%), gaming apps (59%), and streaming apps (56%).
Here are some major key points that completely sum up the whole buzz of holiday season 2020:
Cyber Week is going to be Huge.
AMP pages and mobile sites will be the most on the lookout of shoppers.
Top product categories during the holiday season will be "Home Improvement" followed by "grocery", "luggage" and "home decor/furniture" and "electronics" – Statista.
Omnichannel is the new normal, as the retail Mobile App installations increased to about 106%.
More than 50% of the shoppers will be purchasing the house-holds items considering the global lockdown and WFH schedules.
Setting eCommerce Targets for yourself: This Festive Season in USA
As the number speaks for itself, the festive season 2020 is going to be grand. However, there are some of the essential factors that you need to take care of; in order to excel inside out during this pandemic times.
Assess if you follow the social distancing norms in your daily business operations.
Are you abiding by the law and practicing safety measures among the workforce?
Are your essential operations and services protected?
Have you and your staff be avoiding all personal contact.
Do your products come thoroughly sanitized, packed, and delivered safely?
Have you issued the message of awareness for your familiar visitors; be it on your website, About us sections, social handles and so on.
Whether you are a small or medium business or an established brand, the festive season unlocks huge perks for closing big deals, generating revenue from giftings, and everyday purchases. Here are two significant ways through which you can harness the potential of the festive season and get your business on cloud 9.
Top Marketplaces to Set Foot on.
In 2019, U.S. online retail sales of physical goods amounted to $343.15 billion while the total eCommerce sales on marketplaces are worth as much as $602billion. Having mentioned that, the United States is home to the eCommerce behemoths like Amazon, eBay, Walmart, and many more.
These eCommerce giants render a broader scope for online retailers to bring their products where billions of people are shopping. You can scale your business in just simple terms and capitalize on these prospects during the festive season.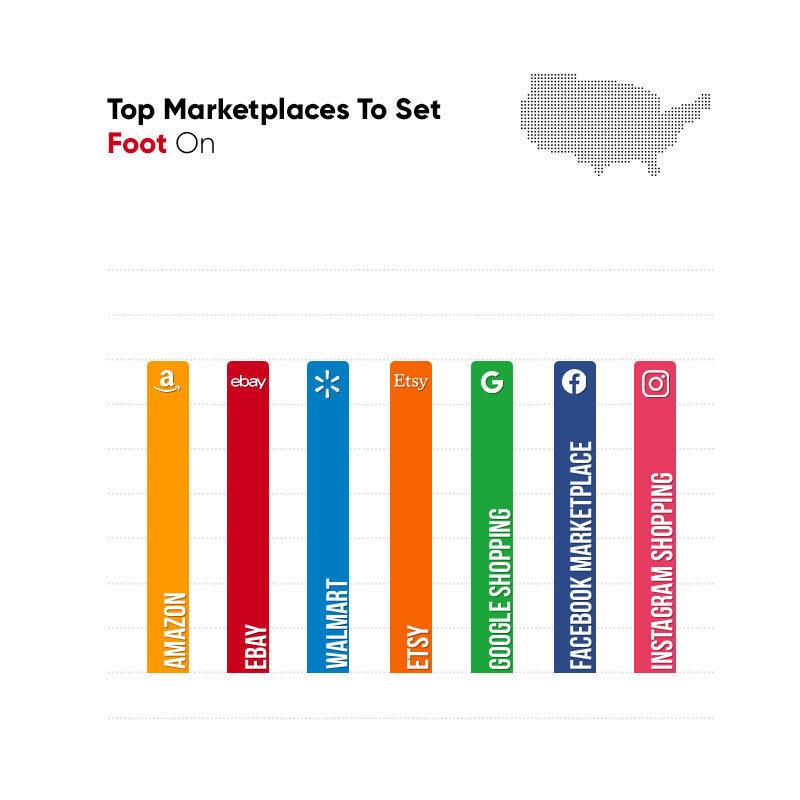 Amazon Marketplace
When it comes to the eCommerce marketplace, Amazon has significantly placed itself into one of the giant bay of online retailers and brands; it is one of the top three marketplaces in the USA recording nearly 6 billion visits per month. It allows you to offer a wide range of products on the platforms and also provides the greatest shipping program like; "Fulfilled by Amazon " to ease up the order fulfillment.
As per Amazon, Prime Day 2019 was the largest shopping event surpassing the combined record of Black Friday and Cyber Monday. In recent years, Amazon's prime day has been attracting huge customers from its Prime Day event that generally takes place in July each year. However, the COVID-19 pandemic resulted in its forward shift.
Amazon now is uncovering this tremendous shopping event on October 13th and 14th, ahead of Thanksgiving and approaching BFCM. It is also speculated that the October Prime Day event will reportedly be followed by "Early Black Friday Deals." These deals will allow non-prime shoppers to run in the weeks before Thanksgiving—pulling holiday season demand forward as December approaches.
**Success Tip:
Explore new trends in giftings, theme parties, and brand's latest launches to position yourself in competition.
Get ready with your quarter-long PPC campaign strategy; filter out your products and platforms where you are going to utilize your budget.
Keep your stocks rightly full to avoid the rush and also win the buy box.
If you are an established brand, go for Amazon Virtual Product Bundle Program and allow buyers to purchase the bundles you have prepared for similar products.
eBay Marketplace
With a whopping 182 million buyers around the world, eBay is one of the biggest global marketplaces known to almost everyone now. eBay is considerably known for its wide range of products category which includes new, old, refurbished, vintage, and a lot more unique and collectible stuff.
Unlike, Amazon, eBay is quite a lot more popular in other countries apart from the States. This extended reach makes it a hub for all types of festive shopping among the global audience. If you just want to embark on your journey of online selling, eBay is your sweet spot. Q4 of 2020 is going to be the busiest holiday season so far with increased orders and deliveries.
**Success Tip:
Focus on all the eligible 'gift-items" and try to put up holiday-friendly stuff for sale.
Optimize your listings, with power words like "Buy-it-now" and consider offering free shipping.
Keep more of the fixed price listing than the auction ones.
Use social media as a tool to promote your products with holiday-specific hashtags, filters, and offers.
Walmart Marketplace
Walmart is everyone's choice when it comes to the US population. From groceries to garden, apparels to apple TV, and from furniture to french fries – people shop at Walmart for everything. It is one of the biggest chains of offline retailers in the USA and some other countries.
While Walmart is closing its offline doors this Thanksgiving day, online shopping is going to see a tremendous rise. It is also planning to hire 20,000 seasonal employees who will help pack and ship online purchases in its fulfillment centers.
It is speculated that shoppers will begin buying holiday gifts before Halloween as traditions like "doorbuster" stretch to the "one-day" BFCM deals. Some of the top-selling products lately include loungewear, exercise equipment, beauty products, and home items.
**Success Tip:
Pack up your stock as Walmart will be continuing the Black Friday sales throughout the festive season; you will be getting heaps of orders.
Pay attention to buyer's wish lists as it may reflect their new routines and range of products where the demands can come from.
Pet's related products and kid's toys are in the major look-out. You can scale up your business with great deals on these products.
Keep a check on your fulfillment company. As offline stores are closing down for most festivals, there will be a hike in online shopping of routine buyers, and you may end up with huge orders.
Etsy Marketplace
Etsy marketplace is the topmost eCommerce platform in the USA, furnishing a record number of buyers as well as sellers. The unique idea of a marketplace puts the custom, vintage, and handmade items on priority. It encourages artisans and small businesses to put their foot forward and start selling to the world.
While Etsy is home to personalized items and unique gifts and supplies; shoppers usually shop to either decorate their places, handwoven festive themes clothes, or send gifts to faraway places. In 2019, Etsy's gross merchandise sales increased to 30% during the five days between Thanksgiving Day and Cyber Monday.
With Free shipping boon, Etsy offsite ads, and ads fee waiving, Etsy tops the chat to have come as a supporter for businesses of all sizes. This year there is a 53% increase in searches for eco-friendly gifts and a 50% increase in searches for family games. Onboarding to the Etsy marketplace is free and easy, considering you have the hands to produce the coolest creatures this festive season.
**Success Tip:
Home essentials, long-distance giftings, decorative gifts, and outdoor accessories are going to be on the bigger hunt.
Utilize the power of social media, go live, and dig down the most suitable hashtags to show your creations to the world.
Offer exciting coupons and run timely Etsy Ads campaigns.
Schedule the Etsy-wide sales event and entice shoppers with your exceptional products.
Google Shopping
Google Shopping remains on and off the chart, following the humongous branding and listing updates from 2019 till today. Having provided a shopping platform to businesses of all types and sizes; Google Shopping offers a seamless shopping experience all within a single ecosystem Shopping Actions and surfaces.
The latest free listing updates, commission-free selling, partnership with largest payment aggregator "PayPal", the introduction of "Shop sale by store" and local surfaces across Google; has given a new shape to how easily and effectively you can leverage Google Shopping for your business.
With 3.5 billion searches occurring per day, Google Shopping is a powerhouse that can drive extensive traffic to your products. By building your business with Google Shopping, you can unlock various tools and resources with ThinkwithGoogle and GrowwithGoogle; and make your business stand out among the rest this holiday season.
**Success Tip:
Get a holiday theme makeover to attract most of the shopper's attention.
Highlight your deals on Google with the latest update of Automatic Optimization across desktop and mobile
Set Local campaigns to connect with nearby customers when they are searching or browsing for businesses across Maps, Search, YouTube, and Display.
70% of the shoppers are ready to try new retailers, so try engaging new customers with video content featuring store tours, product reviews, and gift recommendations.
Facebook & Instagram Shopping
While you may be a lot familiar with all the aforementioned marketplaces, the real spice lies here with the Facebook Commerce Surfaces. Until now, people utilized social media platforms just to connect and interact with people, look for similar interests and discover new ideas; however, the launch of commerce on Facebook has changed the very definition of social media.
With the Facebook Commerce surfaces; you can now bring your products on Facebook Page Shops, Facebook Shops, Facebook Marketplace, and Instagram Shopping. Not only this, but you can also leverage the feature of checkout on Facebook and Instagram, which enables buyers to make in-app purchases.
56% of festive season shoppers in the USA have bought something during BFCM, Halloween, etc. Even in these challenging times, people are finding ways to connect with their loved ones and send them festive gifts. Setting up or expanding your business on Facebook and Instagram can help you prosper online and enhance product visibility to gain a higher volume of sales.
**Success Tip:
Product pricing and discount rates are on the close watch list for shoppers. Keep your price competitive and offer frequent discounts.
If you are a food business, there is a vast opportunity as 52% of holiday shoppers are likely to try new food brands during the holiday season.
With the effect of the pandemic, affordable luxuries such as lipstick, nail polish, and ice cream have become popular among people.
Harness the live shopping features and product tags on Instagram Shopping, allowing millennials to find and buy products just from the fingertips.
Best Options to Expand your Brand's Online.
As the pandemic minimized human interaction; now is the best time to shift your brick-and-mortar store to a full-fledged online store. Well, it is a costly affair and requires much of your energy and time. However, the benefits of building your brand from scratch and driving sales and growth over the period of years are what makes this decision so fruitful.
Moreover, if you have already been selling your products on marketplaces, expanding it with a dedicated name is a matter of recognition and brand image. If you are willing to take this leap, here are two best ways you can opt: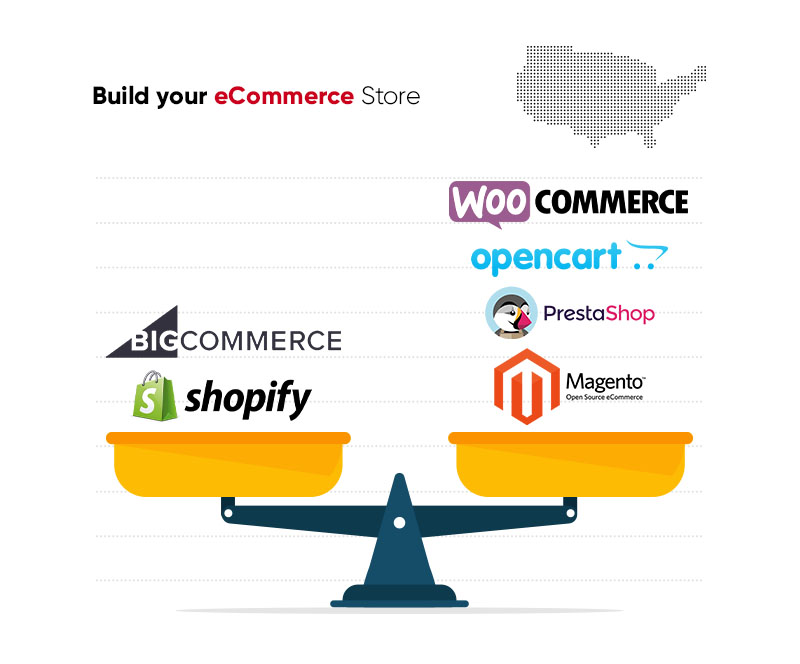 Tailor-made Store with Saas-Based Platform
Saas based platforms are the best when it comes to building a new store, just in a matter of minutes. Saas which expands to "system as a software" is the eCommerce frameworks that offer you the easiest way to shift online with little or no prior knowledge.
You can readily set-up your store with the help of customized templates that suit your business. In a Saas based site, your store data is stored in the cloud-based space, and your store's domain id is hosted on the company you are building your shop with.
Some of the best Saas based companies are Shopify and BigCommerce, which offer trials as well as paid plans to help you in creating your store. As the holiday season is approaching, shifting your business online will help you garner highly convertible leads for your products and an opportunity to grow.
Custom made Store based on Open Source Platform.
Everyone allures customized things. Powering this idea, comes the Open-source software. While Saas based software helps you in building your store quickly in minutes, open-source software enables you to create your store from scratch the way you want.
Open-source software allows you to put up your unique store from the ground. It delivers basic eCommerce capabilities like enhanced security, optimized site, page-building tools, and so much more. Unlike a Saas based system, open-source software needs a technical hand to work with and is also costly in terms of personalization it offers.
If you have a knack for online selling and wish to expand your business for the long future; then open source is the best you can go for ahead of the holiday season sales. Some of the best open-source eCommerce frameworks are Magento, WooCommerce, Opencart, and Prestashop.
A Successive Approach of US Holiday Season Preparation for You
Having covered a lot above, you may be wondering about how to prepare your store for the up and coming festive carnivals. The more prepared your stores are; the higher are the chances for you to showcase your offerings well, manage all the orders, fulfill them on time, and maintain the stocks for growing demands. Here are the best tricks you can incorporate while you prepare your stores: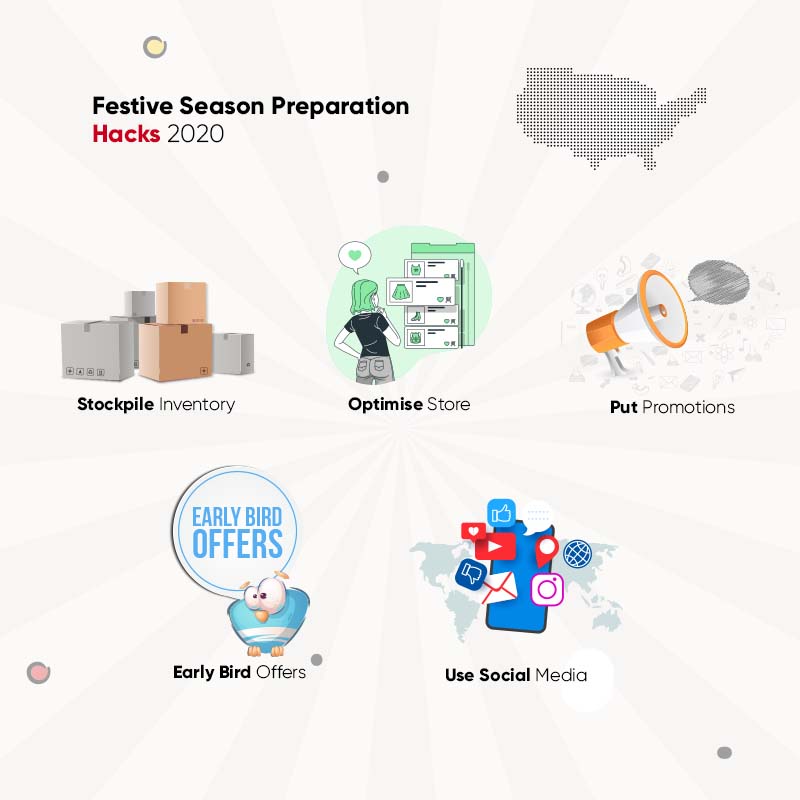 Stockpile your Inventory
It is never a good idea to wait for the last second. Prior preparation is the key to get the most out of this upcoming festival season. If you are a self-owned brand, start preparing for a larger portion of the stock; to meet the last-minute orders or returns. The more seamless and smooth purchases you handle, the more return buyers you get.
On the other hand, if you are selling products on any of the marketplaces; it is always better to keep your inventory aligned with the demands and orders you are expecting. One pro tip: make a quick rough comparison of your sales and orders of previous years. It will help you set the real stock cap.
Optimize your listings and stores
Well, you are not the only one in the market. And, so you also have to stand out with your offerings among your competitors. For that, one of the best strategies is to optimize your product listing as per the latest trend. You can optimize your product title, description, product images, and any such details seeding the top-performing keywords into the listings.
Apart from this, you also need to customize your shop according to the latest trends. Changing themes, putting new color blocks, pushing some tempting flash coupons, and updating your shop return, exchange and after-sale policies might be a significant advancement to the approaching holiday season. No matter where you are based, optimizing your information is the most important thing for better performance.
Schedule lucrative sales and promotions
The festival season is incomplete without the price-cuts. Shoppers are always on the look-out for saving even the single penny they can, by shopping cheap and best. To capitalize on this very buyer-habit, you can schedule a holistic promotional approach for your shop. Plan out a campaign that includes all of it.
Season sale, discounts, coupons code, sign-up bonus, freebies, combined offers, redeemable coupons, cashback, and percentage-based saving are some of the popularly implemented tactics to lure a large pie of shoppers. Be it on the marketplace or a store; you can put up a combination of these as and when required to record maximum sales.
Offer Early Birds and Free Shipping Discounts
Every visit to your shop or product may not probably result in the purchase. A large number of brands witness the shopping cart abandonment, and during the festive season when every other retailer is looking to catch your lead; it is crucial to utilize the leads and push them to conversion.
To handle this last-minute deal lapse; you can take the help of the early-bird discounts and the free shipping baits attached to the checkout page. This helps in capturing the attention of shoppers one last time and results in the deep motivation of the shoppers to make the final purchase. You can also shoot personalized mails, the moment he left the cart without purchase.
Utilize Social Media
Social Media has tapped into people's lives, like no one else. Brands are now harnessing these channels to keep hold of shoppers' activities and plan their content and ads accordingly. With more and more people making purchases right from their mobile devices, you get to present your products on each of these channels to shift their attention towards you.
Providing an immersive and omnichannel shopping experience is the new norm of online selling; the use of social media helps to achieve this. Facebook, Instagram, Twitter Ads, WhatsApp business, and Pinterest are some of the channels through which you can expand your product's and brand's reach.
Get Automated and Be Ahead of Time
For online retailers like you, you must keep track of everything that boosts up your sales or shoots up your demand. Festivals like Thanksgiving, Black Friday, and Cyber Monday have carved out a new peak for businesses of all sizes in terms of profits and growth.
Whether you are based on a single platform or are laid in multi-channel selling, keeping your head in the game is necessary. At times it becomes tough to handle and maintain the store, inventory, orders, and records altogether. Automating your stores and selling cycle will eventually help you in preparing better and lessen the chances of human errors and lags.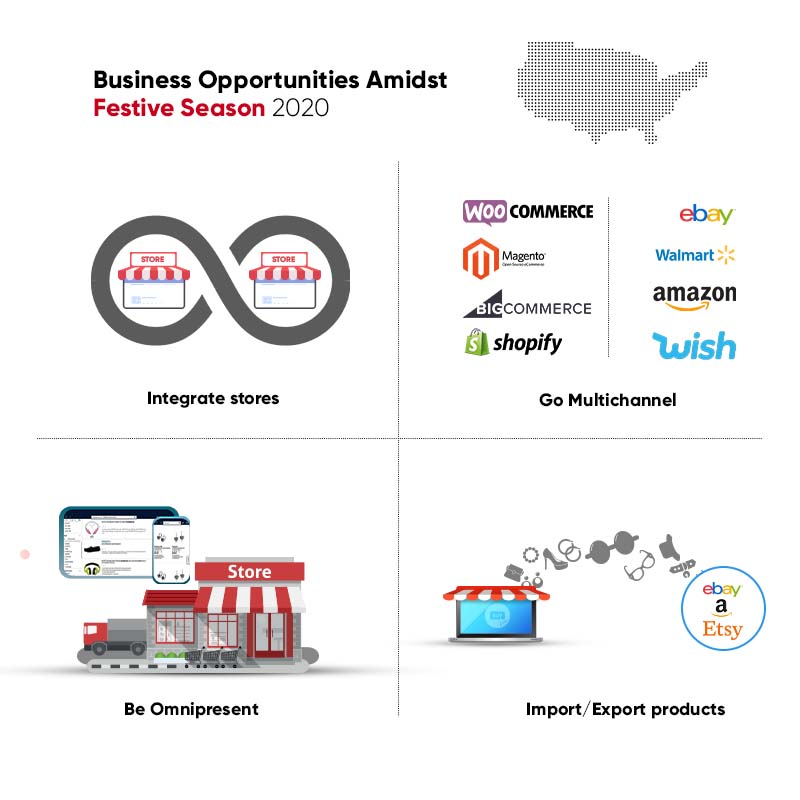 Integrate your stores
If you manage a store and has also expanded to several marketplaces, it becomes tiring to keep an eye on all the channels you are involved with. At the time of festive hassle; you may miss to update products, fulfill orders, or take hold of returns and queries.
To your rescue, integration solutions help you integrate your stores from the marketplaces you are selling from. Be it Amazon, Etsy, eBay, or others; by integrating your stores, you will experience a synchronized inventory, robust order management, and real-time updated navigation from a single dedicated dashboard. This saves a lot of your time, giving you an edge to prepare for the festive season well.
Tap into multichannel selling
The neck-to-neck competitions in the market have outraged the online retailing sphere. Buyers now tend to switch to another product in the blink of eyes. This often increases your cart abandonment rates and also hampers your overall sales.
Last year, 78% of U.S. holiday shoppers used three or more channels to do their holiday shopping- Google. Multichannel is the new face of online selling, where you can not only master one platform but expand your reach by tapping into other marketplaces. Selling from more than one platform increases your product visibility and helps you reach a wider audience. It has now become much easier with the multichannel solution; which allows you to upload products in bulk on multiple platforms and also establish an automated selling mechanism throughout.
Be omnipresent with Mobile Apps.
Who doesn't want to be noticed? Right. Also, when it comes to your brand, you will try your hands on everything that gives you an overall presence. Practicing omnichannel selling gives you this only. In the hyper digitized era, you don't know where your buyer resides.
To curb this situation, omnichannel selling paves you a helping path to tap into each channel of selling; be it mobile phones, desktop, progressive web apps, mobile apps, POS systems, buy-online-pick-up-in-store (BOPIS) feature, and so on. Creating your impression at each channel people interact with; opens up an easy way for your products to outshine others and also aids in straightway purchases through checkout.
Build your brand by importing products to your store
You must have started selling long back with some products on marketplaces, but slowly and gradually you developed this thought of owning your business. While showcasing your products on marketplaces can get you more visitors, building your separate brand gives you recognition.
However easy it may seem to think, it is difficult to get started with your store. To ease this, importer apps readily help to import your products in bulk from marketplaces and saves much of your time.
Make the Decision that Suits You Best.
The holiday season is the time for you to create a smashing fortune for your business in just a matter of a few months. While it is crucial to focus on generating more sales; it is equally important to prepare for it in advance to avoid last-minute struggle.
A little help does no harm, and when are already on the right track, you just need a push. Connect with leading eCommerce experts to get help in customizing your strategies and get the best solutions. Anything bothering you in between? Don't miss to mention in comments.
[ad_2]